Hello!
I hardly ever reread books, mostly because I feel guilty about the books that I own that I haven't read. There are some books, though, that I really want to reread, despite the guilt. I have a few that I have reread before (like Harry Potter), but there are a bunch that I've never reread, and I want to try and reread them sometime next year. Here they are!
The Six of Crows duology by Leigh Bardugo
I read both of these books right when they came out, so there was about a year between each one. I would love to reread both of these books together, so I could go into the second book with all the details from the first fresh in my mind. Plus, I'd love to revisit all of these beautiful characters.
Percy Jackson and they Olympians by Rick Riordan
I've actually reread this series once, but it was at least five years ago. I'd love to revisit this original story before I move on to some of his newer series like Magnus Chase and Trials of Apollo.
The Fault in Our Stars by John Green
I'd really like to reread this book, as it's been several years since I've read it, and John Green has a new book coming out this month, so I'd like to reread this one very soon. It's been on my all-time-favorites list since the first time I've read it, but I think I've only read it twice. This is also one that I'd really like to rewatch the movie of, as the first time I missed part of it because I had to use the bathroom.
Simon vs the Homo Sapiens Agenda by Becky Albertalli
I've only read this book once, and I'm absolutely shocked by that fact. I love this book so much, and I really have no idea why I haven't reread it yet. I'm going to do this very soon, and I'm absolutely going to have a pack of Oreos with me when I do it.
The Infernal Devices trilogy by Cassandra Clare
I have a couple of reasons for wanting to reread this this trilogy. Firstly, it's one of my favorite series and its been about 5 years since I last read it, so I'd love to revisit the Shadowhunter realm. Secondly, I really want to continue on with Cassandra Clare's new series, The Dark Artifices, so rereading these would be a good refresher.
We Were Liars by E Lockhart
I've wanted to reread this book since I first read it when it came out a few years ago. I never did. This is the perfect book to reread because you can go back and see all of the little hints and clues that you missed the first time around. I'm super excited to go back and see this from a the perspective of someone who knows what's coming and what really happened.
The Darkest Minds trilogy by Alexandra Bracken
This is another series that I fell in love with when I first read it a few years ago, and I want to go back and fall in love with it all over again. Over the past year or so, the cast of Six of Crows has been my favorite band of renegades, and recently I've realized that I kind of forgot how much I love the group in this series as well. Everyone takes care of each other, and they all are so supportive and I want to go back and remember all the great scenes with this rag-tag group.
The Book Thief by Markus Zusak
Another book that is one of my absolute favorites, and I think I've only read it twice? It's been at least 3 years since I read this one, and I'm starting to forget some of the details. I also want to rewatch the movie for this one, because the soundtrack is GORGEOUS.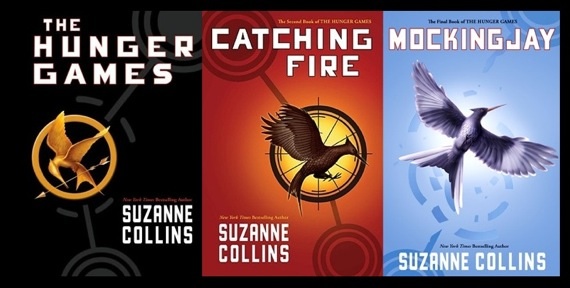 The Hunger Games trilogy by Suzanne Collins
I'm pretty sure I've only read this trilogy once. I want to go back to it for a few reasons. Firstly, I want to reread them to help distinguish the events from the books from the events in the movies, because at this point its all just a blur. Secondly, I have a LOT of mixed feelings about Mockingjay, and I'd like to reread it to try and sort through those feelings a little bit more.
The Graceling trilogy by Kristin Cashore
I've reread Fire two or three times, but I've only read Graceling and Bitterblue once, and the only time I read Graceling was…. 10 years ago? Something like that. So it's definitely overdue for a reread.
What books do you want to reread? Have you read or reread any of the books on this list? Let me know in the comments!
-Sky