Hello!
By some miracle, I managed to have a great reading month this month, even better than March! I read a total of 14 books this month. I'm really glad I had such a great reading month this month because I know May is going to be really hard. I have AP testing over the next two weeks, and then finals directly after, so I'm going to purposely sort of avoid reading a bit so I can focus more on studying for all of my upcoming exams. Hopefully once I get through May, June will be better and I can pick up more books.
So, without further ado, the books I read in April –
The Selection, by Kiera Cass
This was such a satisfying conclusion to this trilogy. I was a little wary of it at first, because The Elite was really disappointing, but this book definitely redeemed the series for me. I felt like America was much less annoying, and handled her self much better than she had in the previous books. I don't think I will be continuing on with this series, however, simply because I just don't think I am invested enough in it, and since it's introducing a whole new set of characters, I'm not really sure it's worth it. 4 stars
Hamlet Poem Unlimited, by Harold Bloom
I had to read this one for school, in preparation for reading Hamlet. This book was so annoying. I didn't understand half of it, and the author's voice was so pretentious and arrogant that I skimmed through most of it just to get it over with. Most of the book was just quotes from Hamlet anyways, so I don't feel like skimming it was detrimental to my understanding of the book. 2 stars.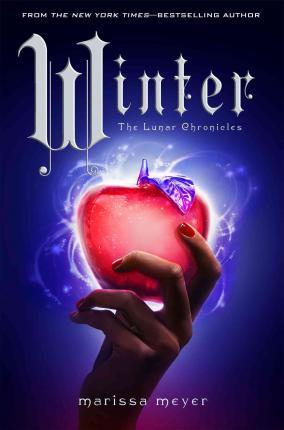 Winter, by Marissa Meyer
This is one of the best ends to a series I have ever read. I felt that everything was wrapped up beautifully, and all of the characters got their closure. I'm so, so excited that I finally got around to finishing this book, and I'm also really mad that I put it off for so long. I can't wait to pick up the two novella books for this series. 5 stars.
Aristotle and Dante Discover the Secrets of the Universe, by Benjamin Alire Saenz
This book was so beautiful. I was expecting a cute, fluffy contemporary that I would just fly through in one sitting, but that wasn't what I got at all. This was about so much more than cute fluffy romance. It was about family relationships, dealing with grief, depression, and PTSD, and friendship. I loved every aspect of this book, and really found myself savoring the words on the page and really just trying to take my time. My only complaint about this book is that I didn't always like the writing style, particularly in the beginning. 4 stars.
Angels in America, by Tony Kushner
This is probably one of the weirdest books I have ever read. This play is extremely thought-provoking and phenomenally complex. There are so many themes and ideas that are fleshed out throughout the story, and sometimes you can even get lost in the amount of themes that are tackled. I had to read this book for school, and analyzing this book in class brought about some of the most interesting discussions I've ever had. The only problem I had with this book was that sometimes it was just a little too weird for me, and the ending wasn't exactly what I wanted or expected. 4 stars.
The Assassin's Blade, by Sarah J Maas
I put this book off for way too long, and I'm regretting it. I think because I put it off for so long I wasn't as invested in some of the characters as I would have been had I read it earlier (I would recommend reading it between Crown of Midnight and Heir of Fire.) Even though I wasn't quite as invested as I thought I would be, this book still left me emotionally wrecked. I wish we'd gotten to see more of Sam, but I love how much more we got to see of a younger Celaena.
Individual novella ratings –
The Pirate Lord – 3 stars
The Healer – 3 stars
The Desert – 4 stars
The Underworld –  4 stars
The Empire – 5 stars
Overall Rating – 4 stars
Simon VS the Homo Sapiens Agenda, by Becky Albertalli
This book was so adorable, witty, and beautiful. I read this in one sitting, and I loved every minute of it. The characters were all so well-written, and it wasn't as predictable as I thought it was going to be, although I did guess correctly who Blue was. I read this on my iPad, but I'm definitely going to get a physical copy of this because I loved it so much. It was hilarious and surprisingly profound, and tackled more issues than I initially thought it would. 5 stars
Mr Penumbra's 24-Hour Bookstore, by Robin Sloan
I'm going to basically just copy my Goodreads review for this one, since I feel like it was a good outline of my feelings about this books. I think the coolest thing about this book was the fact that it glows in the dark. I really wanted to like this book, but I think I sort of went into it knowing that I wouldn't. The premise of this book promises adventure and mystery, but all you really get is a bunch of weirdly obsessive old people and a bunch of young super techy hipsters who swoop in to save the day with their "oh-so-brilliant" technology. It just wasn't what I was expecting. The Holden Caulfield-esque narrator drove me up the wall, and none of the other characters were any better. The slow, boring plot line combined with the aggravating characters made this book really hard to get through. The other thing that really bothered me about this book was that I don't think there was a single page that didn't have the word "Google" or "Googlers" which got tiring really quickly. There was so much technological info dumping that just bogged down what might have been a passably interesting plot. The mysterious premise was essentially replaced with an advertisement for Google. Overall this book was just a disappointment. 2 stars
The Art of Racing in the Rain, by Garth Stein
This book was so beautiful and poignant and unexpectedly profound. I was expecting the typical "sad dog story" but it was so, so, so much more. It was watching the life of humans going by through the eyes of a dog. All of the heartbreak, happiness, and hardships that people can go through, through the unapologetic eyes of someone who experiences everything both second hand and first hand. Such a fascinating perspective that was surprisingly easy to read. I never felt strange reading from the perspective of a dog, simply because Enzo felt so human in so many ways, and yet so distinctly different from humans at the same time. This book put the human experience of life into words and sentences I never thought of before, and opened me up to a new point of view that I never thought I'd experience. Such a wonderfully powerful book about humanity and all the horrors and happiness that comes along with it. 5 stars.
Hamlet, by William Shakespeare
I read this in my literature class this month, and while I definitely loved it, I think it's my least favorite Shakespearean tragedy that I've read. I didn't sympathize with a lot of the characters, so I wasn't as emotionally invested in it as I thought I would be. But then again, who am I to criticize Shakespeare? 5 stars
The Vanishing Act of Esme Lennox, by Maggie O'Farrell
This book was really, really creepy. I wasn't sure what to expect when I went into it, but it definitely not what I was expecting. It was gripping and mysterious, and kept me on the edge of my seat from start to finish. The only thing I disliked about this book was the writing style. There were time changes from paragraph to paragraph, and it was really hard to keep track of what time period I was in. I wish the formatting was different so it was a little easier to follow. I also thought that the ending was extremely abrupt, and I had to reread it to understand the implications of the final events. 4 stars
The Cure for Dreaming, by Cat Winters
Thanks to Clara for recommending this book to me. I flew through it, and loved every minute of it. It was moving and empowering, and so beautifully written. It really reminded me what a privilege it is to have a voice and to be a participant in society. It was such a gorgeous story about the phenomenal power that is woman. 5 stars
Illuminae, by Jay Kristoff and Amie Kaufman
This book was definitely the coolest book I have ever read. The formatting was so incredibly detailed and gorgeous and unique. Despite the fact that it is almost 600 pages, I read this in about 2 sittings, and stayed up until past midnight just so I could finish it. It was a really quick read and I loved both the story and the amazing formatting. I can't wait to read the next book in this series. 5 stars
After the One, by Kiera Cass
I couldn't find a cover for this one. But basically this is an extra epilogue for The One. It's only about 11 pages, so obviously it was a very quick read. It was cute, and sweet, but it felt pretty redundant, given the next to books in the series. It was pretty simple, and not too detailed, but gave a pretty basic overview of the next few years in our characters' lives. 3 stars
TBR Jar – My TBR jar challenge for this month was to read a Shakespeare play, which I achieved when I read Hamlet in my lit class.
What books did you read this month? Should I continue on with the Selection series?
-Sky